Again, a case involving lackeys and valets. Several individuals are mentioned here, but the story that emerges tends to center on Lebel (who may, given the dates here, have been denounced by Petit). His is the kind of arrest of a minor player that makes numerous more prominent persons nervous. Merely being mentioned in such a case would lead people to draw conclusions. Regarding the letter to Tallard, for instance, Ravaisson notes:
Pontchartrain's concern that Desforges be interrogated secretly grows directly from his concern for any families whose members may be mentioned.
Lebel's very dense deposition does indeed include names of people known from other sources as sodomites (not to mention some rather catty gossip). It should not be forgotten however that he probably thought it was in his best interest to provide as many names as possible.
Overall, this set of documents reads almost like a novel, with a broad sweep including both tragic and comic elements, an unusually comprehensive look at the "sodomite scene" of the period and elements of prostitution and child molestation mentioned alongside of enthusiastically consensual activity. It also includes the literary trick of leaving unexplained holes in the narrative, which in this case were probably due to the chaotic state of the files following the fall of the Bastille.
From CHEZ JIM Books:
An EIGHTEENTH CENTURY VEGETARIAN COOKBOOK:
APRES MOI LE DESSERT - VOLUME II
and a history of the CROISSANT:
AUGUST ZANG AND THE FRENCH CROISSANT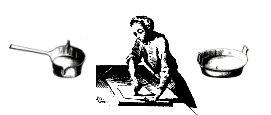 18th CENTURY RECIPE: Meal for 10-12: Terrine of Partridge with Cabbage
A terrine is an earthenware pot, most often round, it seems, in the eighteenth century, and, in earlier times, a chamber pot as well (hopefully the two uses were not often confused.) It was also a type of cooked dish. Today, if you order a terrine, it will be hard to distinguish from a paté (many of which are served in elongated earthenware pots). The Larousse Gastronomique says firmly this must be served cold. But the Old Regime terrine was closer to a stew, and served hot (a crock pot, or the dishes served in crockery in some Asian restaurants, might be considered modern equivalents). It may be that, over the years, cooks discovered that the dish improved when left to cool and settle.
Though the Nouveau Cuisinier Royal et Bourgeois lists this entrée as the first (after the centerpiece) in the first service for its model meal, it only includes one recipe for a terrine per se (463, 1705 ed):
TERRINE

What is called a Terrine, is a very substantial Entrée: here is what it is. One must have six Quail, four young Pigeons, two Chickens & a Quarter of Mutton cut into pieces. Put to cook on the coals in a terrine, on a low fire, with strips of lard in the bottom, to keep it from burning; ; or small lard cut into pieces. Once cooked, skim off the grease, & put in its place good Veal juice, blanched & cooked hearts of lettuce, a little puree of green peas, with peas or asperagus tips. Let them cook together a bit longer, & and only serve after skimming well.
A nineteenth century dictionary, the Dictionnaire General de la Cuisine Ancienne et Moderne (1853), offers this recipe for "old" - eighteenth century? - style terrine (485):
Terrine in the old style - Cook a plump chicken, a partridge, the saddle of a hare, a rump of veal and a rump of mutton in bouillon, all larded with moderately thick lard seasoned with fines herbes and spices. Let all this boil together. Then peel grilled chestnuts, clean them properly and put them to cook with the meat. Close the terrine tightly and seal it with firm dough so that all this cooks in its juices. Skim the fat off the sauce before serving it and add in then a glass of Canary wine.
These recipes give a good idea of the old version of a terrine. None of these works offers one specifically for partridge with cabbage, but the combination otherwise occurs frequently. The following recipe might do perfectly well on its own, but could also be adapted to a terrine:
Partridge with Cabbage

Take three old partridge; after having cleaned them, truss them like chickens; lard them with large strips of lard, seasoned with salt, pepper, fine spices, grated and strained aromatics, parsley and chopped spring onions; line a casserole with some bits of veal, two carrots, two onions and a half-clove of garlic; put your partridges on it, cover them with strips of lard; pour some good bases over them, or some bouillon or consomme; put your casserole on the fire, take it off; cover it with a round of buttered paper, as well as its cover; put it on the work surface, with fire under it and hot cinders on it; let it cook an hour or an hour and a quarter; then prepare the cabbage [see below for preparation], in which you will cook a cervalas and a piece of small lard; pare thirty red carrots, as many turnips; give them the diameter of a one franc piece (their length must be of the height of the mold I am going to mention); blanch these vegetables; drain them and let them cook in consommé, with a pinch of sugar to remove the bitterness; having let your cervelas and your lard cool, take a mold; butter it; put in the bottom a round of white paper and a band of paper around your mold inside and of its height; cut your cervelas into pieces like coins and your lard into slices, the thickness of your cervelas; put in the center of the mold a piece of cervelas; arrange around it slices of your lard, and so garnish the bottom of your mold with circles of lard and your pieces of cervelas; lay out around your mold your sticks of carrots and turnips, mixing them together and tightening them one against the other; press your cabbages, garnish the bottom of your mold with them, and continue to garnish the sides with them like a kind of counter wall, so to speak; leave a hollow in the middle to put your partridges in; put them in the bottom on their stomachs; fill your mold with cabbages, cutting back anything that spills over, and press them down, in order to give them a firm consistency, so that in turning out your partridges, your decoration will not be disturbed; put a cover on this mold, and keep your partridges warm in a double-boiler; strain their stock through a silk strainer; add in three skimming spoons of worked Spanish sauce...; let your sauce cook, skim it, reduce it to the consistency of a demi-glace; turn your chartreuse over on your dish, remove the paper, drain it carefully, sponge off the moisture, as as well as possible, with the corner of a cloth; sauce it with your reduction, and serve.

Take two or three cabbages; cut them into quarters; wash-them; blanche them: when done, let them cool: bind them; put them in a stewpot; moisten them with bouillon: if you have a hot coal [?] or some good stocks, use them; add in some carrots, two or three onions, including one stuck with three cloves, a garlic clove, laurel, thyme; what's more, so that your cabbage are well filled out, add in the last of your stewpot; let them simmer three or four hours;drain them on a white cloth; squeeze them to get the grease out in giving them the form of a rolling pin...
Beauvilliers, L'Art du Cuisinier (I, 275-277, 108-109)