THE OLD REGIME POLICE BLOTTER: Rape (Rapt) (II)
(In continuing the complex subject of rapt as a form of rape, I will generally use the French term, simply because it applies to such a broad range of possible activities - forcible kidnapping, seduction, etc. - that I hesitate to decide for readers of English which meaning applies in each case.) This introduction to one legal text provides insight into the link between 'rapt' and 'viol' in Old Regime law: "Of Rapt & Rape Though in our language these two crimes have different names & a distinction is made between them, & one may even be committed without the other, nonetheless they will be addressed under the same title, following the example of ancient Criminalists, with all the more reason, that... they are called by the same name, *raptus*, & are confounded together in determining penalties." Rousseaud de la Combe, Traite des Matieres Criminelles 1768 (27)
Rousseaud also remarks on the contrast between the severity of the statutes and actual practice: "And although the Statutes prescribe the death penalty for those who give counsel, comfort & aid in any manner whatsoever in committing the crime of rapt; nonetheless the Courts turn from this rigor according to circumstances, to which the first Judge is obliged to adhere." (30)
-A RIVAL'S RAPE (II)
A story told earlier of forcible rape was that of Catherine F., who was raped and beaten in the woods by four siblings as a result of the sisters' jealousy of her. Since the family (including the parents) went so far as to boast about this deed in their town, she would have seemed to have had a good case when she took this to court. But here (largely summarized) is what happened next:
Catherine F. files her complaint before the lieutenant-criminal [an investigating judge] of Saumur. She obtains permission to present the facts, and to issue an official proclamation. Based on the deposition, the lieutenant-criminal declares that the mother and father are to appear, and the siblings to make personal appearances: this decree announced, the accused go to court, and March 15, 1741, they obtain a ruling of defense... The same day, the father and the mother, to deflect the accusation, present to the court a request for a charge of rapt by seduction said to have been committed by Catherine F. against the two sons [The latter were undoubtedly minors.].
They were careful to have the facts brought before a lieutenant-criminal from a different area (Loudon) and so were able to present the facts to him in their own light, through witnesses of their choice, with the result that an arrest warrant was issued for Catherine F. She hid until a court ruling gave her time to organize her defense. Both sides ended up presenting their case before the local parliament. Master Mallet, Catherine F.'s lawyer,
proves that her party must remain the only accuser, that the crime she has brought to law is a grace, atrocious crime, and in consequence merits the most thorough, scrupulous investigation.

What is more, he establishes that the accusation of rapt brought against Catherine F. is an illusion, that were it as real as it is imaginary, it would be a recriminatory procedure, contrary to all the rules...

The sons hide poorly the darkness of their actions. They claim, through their defender, "that Catherine F. set a meeting with them in the woods; that their sisters whom they did not expect having happened upon them, they wanted to show that they did not approve of Catherine F.'s conduct, and it was then they had inflicted the treatment of which she complained".. They say that she is a dissolute girl, whose unfortunate inclination towards pleasure leads her into situations where her downfall is certain; that she has worked to cover herself with condemnation by her licentious conduct; from this they try to conclude that the punishment of such a girl is no awful crime.
The father too claimed that the part he played was to take revenge for Catherine F. for seduction "which he calls raptus in parentus." The deciding chamber's decision, delivered August 12, 1741, dismissed the charges against Catherine F., condemned the parents to two thousand pounds of damages and interests as well as expenses. Their appeals were rejected and the father and sons were arrested, to be tried by the lieutenant-criminal of Angers. (The account does not list the ultimate outcome of the case.)
P. F. Besdel, Abrégé des causes cèlébres et intèressantes, T.3 (126-129)
- THE BRANDED LAWYER
This is yet another case driven by jealousy. The journalist Linguet, an ex-lawyer, spends eleven pages on it in his Annales, almost as if pleading the case in court. This is a much summarized version of his account.
At Arras, in 1773, a young Lawyer, named Derugy, exercised his profession... he was upright and did not lack talent. He was to marry the eldest daughter of a widow of the same town, called Ferco. The younger sister appeared to him more agreeable: he preferred her.

This choice, which he did not feel obliged to hide, made the object [of his affections] hateful to the despised eldest, to the mother who loved her blindly, to an older brother, a hot-headed man, who found in the youngest a temperament less like his own. The latter was covered with ill-treatment; more than once the neighbors had to come running at her cries, and to take her bloody from the hands of these three enemies...
The mistreated daughter ended up running away. She begged, through an intermediary, to be allowed to enter a convent, but her mother refused. Though the young lawyer advised her to return home, her two brothers blamed him, waylaid and beat him, and left him for dead. Surviving, he brought charges against them. At this point, they charged him with rapt. The judges saw through this attempt, but in the process the two lovers saw each other more often and "after several consultations the persecuted young woman found herself pregnant". (Linguet states this almost as an inevitability, but in fact that alone might have supported a charge of rapt by seduction.) Derugy then warned her to hide. She first legally requested that she be sent to a convent, but instead she was ordered to a "house of force" (essentially, to prison). She did not go (and presumably hid). When she went into labor, she ended up going to her lover's mother and begged to be taken in. "The latter, cautious, at first refuses to receive her. Despair then troubles the reason of the unfortunate girl; she protests loudly that she will throw herself into a public well." Derugy's mother ended up dragging the girl into her house. Nonetheless, twenty-four hours after the birth, she demanded that the girl leave. The girl's family seized on this act of compassion to reopen the charge of rapt. Derugy, who could not help but care for his mistress, was followed and both were arrested. "The young man was condemned to the GIBBET; & his mother... to be HANGED AND STRANGLED." (Note: this is Linguet's habitual, emphatic tone.) The sentence was appealed (probably as a matter of course) to the Provincial Council of Arras, which reduced the sentence, though only (says Linguet indignantly) to nine years exile for the mother, and, for Derugy, "the GALLEYS for life, & first, to be MARKED WITH A HOT IRON, &c." Derugy was branded and taken to Paris in preparation for joining the 'chain' that would go south to the galleys. At this point a lawyer stepped in to help him, and the case became tangled in Old Regime legalities, largely due to the fact that the (reduced) sentence could only be appealed to the same body that had delivered it in the first place. Without plunging into the full legal thicket, it is instructive to read Linguet's summary of the rational behind the laws against rapt:
The menaces accumulated against rapt, had above all the goal of preventing unequal matches, to put a brake on the disorder that daily relations between persons of different sex, & of disproportionate condition, could introduce into families, a servant who seduces the daughter of his master, & ravishes her honor, in hopes that to restore it, it must cede him its fortune; a girl of inferior status or of mature age, who abuses her charms or her diversions to capture the inflamed imagination of a young man, & make him contract dishonorable bonds, these are the guilty practices the law proscribes.

But young people, whose age, rank, means, are roughly equal, when they surrender to an inclination that brings them together, must be put in an entirely different class. Loave, as was said a long time ago, is in this case, the only seducer.
The ouctome of the case is not indicated. But it is worth noting that simply being branded was considered a dishonor.

Linguet, Annales Politiques, Civiles et Litteraires du Dix-Huitieme Siecle, T. 4 1778 (502-512)

- AN INCESTUOUS SEDUCTION?

The following item from Marc-Rene d'Argenson, the Paris Lieutenant of Police, is frustratingly incomplete. It would be useful to know if a later editor added the heading 'INCEST', or if this was the exact term meant by the original. It is hard to imagine how a father could be held guilty of rapt - which often implied an opposition to parental authority. A parent could be condemned as an accomplice if they facilitated the abduction or other rapt of their daughter, but the text seems to imply an actual sexual relationship. Could the term be used here - very exceptionally - as a synonym for forcible rape? Otherwise, this passage is interesting for the remarks on 'contraband convents' and the liberty they allowed. (Reading between the lines, it appears that the daughter too risked a judgement and had requested instead to be sent to a convent.)
INCEST - July 25, 1701 - There is proof, in the trial of Desmarats, musician, convicted of the rapt of his daughter and condemned to death in absentia, that she aided his crime and that she participated in it in more than one way: besides it is nearly impossible that she satisfy the condition which she proposes in her request, since no regularly run convent would want to take her in hand and that is would be less problematic to put her under her family's supervision, than to put her in one of these contraband convents where one can go out at all hours and which properly speaking are only seminaries of debauchery.
Rapports de Police de Rene d'Argenson (59-60)
- SCORING POINTS
During a celebrated (and colorful) trial between the Marshal de Richelieu and Mme. de St. Vincent (she claimed he owed her money, he accused her of fraud), her relations tried at one point to accuse him of rape (rapt) as part of the complicated legal maneouvers around that case. "This request," says Linguet, 'was honored by a long list of names which gave it, in the eyes of the public, a weight which the form of this jurisprudence did not support." In the flurry of decisions that resulted from the case (in 1777), this charge was dismissed as unfounded. Linguet, Annales, T. 1, 1777 (187-189)
From CHEZ JIM Books:
An EIGHTEENTH CENTURY VEGETARIAN COOKBOOK:
APRES MOI LE DESSERT - VOLUME II
and a history of the CROISSANT:
AUGUST ZANG AND THE FRENCH CROISSANT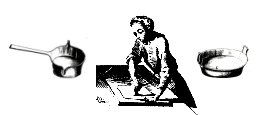 18th CENTURY RECIPE: Ices ("neiges" or snows)
The postmodern world often overreaches itself dreaming up new mixtures, and ends up with, say, artichoke ice cream.
Deborah Jowitt, "Mix It Up - Does Leather Go With Lace? Why Not?" Village Voice June 21 - 27, 2000.
The Village Voice's dance critic might as readily have said "the early modern world" - the recipe for artichoke iced cream which appears below is only one of the preparations from Old Regime France that would later become ice creams and sherberts but were then known as neiges; that is, "snows" - though I will now use the English term for the period, which was "ices". Still, someone serving these today may simply want to use the French term, if only to mark the dessert as being from a particular period and place (not to mention that native New Yorkers have a less than elegant image of an ice). This is how Le Cannameliste (1768) defines the dessert:
ICE ["SNOW"]. This name is applied to all liqueurs, & fruit compositions that are made, & that are put on ice, to serve as snow in goblets, or which are intended to make fruits, or iced cheeses.
The Historic Food site offers some tempting images of neiges, as well as other preparations with different names, but similar characteristics (including use of ingredients that in some cases have not even reappeared with nouvelle cuisine): Georgian Ices and Victorian Bombes. Le Cannameliste not only provides a general introduction to the concept of "neiges", but lists the following varieties (an * indicates a cream-based ice, or what today would be considered ice cream) (152-159):
ordinary cream*
caramel cream*
coffee & chocolate*
cinnamon, clove, vanilla & saffran*
pistachios without cream
lemons
citron (thick-skinned lemons)
orange
bergamot
fragrant fruits
Madeira lemons
apples
pears
peaches
apricots
plums
strawberries, raspberries
cherries
pomegranate
filberts (hazelnuts), walnuts*
chestnuts*
artichokes*
Spanish wine
biscuits (various sorts)
The recipe for Ordinary Cream appeared last week, along with instructions on how to use a sarbotiere (which I will translate here as "ice-cream maker", even if, as also explained last week, the term is a bit anachronistic.) Here are other selected recipes from the list:
ICE of caramel cream. Take a pound of powdered sugar, which you will melt and darken on the fire; blend with this two pints [four English pints] of cream, & cook it as above [that is, as in the Ordinary Cream recipe]; strain it through a strainer, & put it in an ice-cream maker while it is cold.

ICE of pistachios without cream. When your pistachios are well-husked, grate them well with one or two quarters of citron; adding a little water, while you grate them; to avoid them turning to oil, strain them through a strainer with a spatula: blend your pistachios with clarified sugar and a little water, & put them in an ice-cream maker.

\ ICE of lemons. Take a dozen nice lemons; put them in cold water, & wipe them right away, to remove the taste of the wrapping. Take a lump of sugar, & grate it a half dozen against this sugar which you will use as a grater; take off the surface of the sugar which has touched the fruit with a knife; put this sugar in a terrine with a pint [two English pints]of water; squeeze out the juice of your lemons; add clarified sugar to taste; strain all this through a strainer, & put it in an ice-cream maker. Note that with all the fragrant fruits or others, one must always put in a glass of fine wine, & choose the one that goes best with the ice.
And last, but not least memorably....
Artichoke ice cream is interesting...if not downright gross.,br> "Calista", comment on blog
ICE of artichokes. Take three or four artichokes, of which you will only use the heart; blanch them until they are very soft; grate them with a quarter pound of shelled pistachios, & a quarter of candied orange, & a little cream; strain this paste through a strainer; blend it with a [British] pint of cream, cooked like [the Ordinary Cream described last week]; add powdered sugar to taste; strain all this through a strainer & put in an ice-cream maker.
My own rough attempt at this tasted more of pistachio than artichoke, even when I added extra hearts of the latter. The tangerine I used instead of orange added a nice contrast to the nut's taste, as I imagine an orange would as well. Also, having accidentally omitted adding sugar, I found the other ingredients did just fine without it.

FOR READERS OF FRENCH

Magasin Pittoresque: No 45 - 1877
REMINDER: The Magasin Pittoresque was a nineteenth century French magazine. Issues can be found on Gallica. Also, most articles are accompanied by at least one image, and so some may interest even those who do not read French.
This edition offers Carlyle's moving epitaph for his wife, in French. They did not, it seems, have an easy marriage, but the epitaph seemed to me moving enough to dig up in its original English:
In her bright existence she had more sorrows than are common, but also a soft invincibility, a capacity of discernment, and a noble loyalty of heart which are rare. For forty years she was the true and loving helpmate of her husband, and by act and word unweariedly forwarded him as none else could in all of worthy that he did or attempted. She died at London, 21st April, 1866, suddenly snatched from him, and the light of his life as if gone out.
Ever seen one of those little compact handwarmers? Here's how they did it in the 17th century. - Curious to see the atom as a new concept (and not yet split) - What did Dr. Johnson have in common with W. C. Fields? - A scowling, clicking sculpture shows a "Crazy Mother" - Some unknown figures whose work gave France museums of natural history - Do beer drinkers CARE about chiseled decoration? - A short study of the evolution of formal gardens - Ah, Corot! - Under Louis XIV, a schoolmaster had to sing, and whiten the church's linen (oh yeah and teach) - Compare a sketch here with photos of the earth seen from the Moon... - 1769 - a very good year? - The trial of Galileo 'from authentic documents' - A glimpse at the French-English game of pingpong, with India the ball - From Athens to Mexico, the cruel sport: cockfights - Rhinoceros blood, rhinoceros horn: good for what ails you - When tobacco is forgotten, the artifacts of its poison will remain - It's rather a relief that the illustrations of 'Sambo's family' aren't too detailed... - Stone of the Amazons: a must-have in the eighteenth century - Would a worker rather breath dust than sweat (through a mask)? - Keep drinking and we'll... cut off your ear? - How polite should a doctor be to a philosopher? - Should a shoemaker wear a sword? - Follow an Old Regime lawyer through his day - Behind all the gambling in 17th c Paris, an artisan, making cards - A cow ruins a royal do - The author of "The Honest Criminal" was "not a great writer, but he had his day" - A 1788 stroll in Genoa - Haydn, hardest critic of his own work - the French helped teach the English how to save - "The rule for every woman who wants to escape serious criticism is: to know at the same time the most and the least" - How would Dutch breakers of images feel about an image of themselves, at work? - An item on art academies laments the increasing centralization of France - 'I know nothing of getting rich / Cry my matches as I will / I sell them far too cheap' - 'Here's the jackpot' - What if your mirror was more beautiful than you? - What's today's currency rate for a shell? - A small man sits with an open book... on top of a nutcracker - What is a word of honor worth? - "A remarkable writing machine has just been constructed by Mr. Remington" - Before the canal crossed Panama, its inventor's great-uncle crossed Siberia - "People have no idea in Europe how much brandy is drunk in Muslim countries" - Before the Wikipedia, 'authorities' disagreed - Why not just celebrate the good people in your town? - "Poor me - who goes forth to fight the enemy - Not knowing if I will return" - Mercier predicted Montesquieu's success in Japan - From hero to children's game... - This started with Carlyle on his late wife, and ends with Cowper on his mother.
4 - old heating methods
32 - "Crazy Mother" noisemaker
40 - beer "fountain" (urn)
47 - gardens of former years
55 - schoolmaster's duties under Louis XIV
87 - Sadras (English India) (with Louis XIV era history)
92 - cockfights
96 - rhinoceros cures; 1771 tobacco holder
102 - stone of the Amazons
111 - The 50 steps of the King
118 - a mother's advice to a young officer
148 - shoemakers' strike in Madrid 1680
154 - Day in a bourgeois life before 1789
172 - a playing card maker in Paris
190 - Native American masquerade 1762
206 - satires against millers
215 - party-pooping heifer
236 - Acqua Sola in Genoa
263- 18th c French painting academies (brief)
277 - image of 18t c lottery card
316 - nutcrackers
323 - De Maistre's balloon ascent 1784
334 - Kalmuk emigration c 1616
350 - geography in 18th c.
357 - The Temple (where Louis XIV was held)
366 - 1775 - the Feast of Good People
387 - influence of Montesquieu on 19th c Japan
398 - Dictionary of trades before 1789: apothecary
407 - Cowper's poem to his mother

INDIVIDUALS
3 - historian of the 18th century, Thomas Carlyle
15 - Johnson on precocious children
38 - founders of museums of natural history
70 - 1769 - famous men born (Napoleon among them)
125 - statue of Watteau by Carpeau
127 - A greeting to Dalembert
150 - painter Aved
176 - giant buried in 1753
231 - writer Jean Fabre
244 - Haydn and the music merchant
335 - Fox pays a debt, stiffs Sheridan
342 - De Lesseps (great-uncle of the other one) in Siberia
377 - painter Terburg
407 - Colin-Maillard (whose name later meant "blind man's bluff")

OFF-TOPIC BUT OF INTEREST
5 - what is the atom?
51 - Camille Corot
62 - The earth seen from space
73 - Galileo - tomb and trial
100 - Sambo's family
103 - breathing apparatus
111 - 1536 law against drunkeness
116 - John Bull compared to Jonathan (that is, Americans)
147 - The plague in Paris in the 16th c
246 - English savings banks
258 - educated women
260 - iconoclasts (literally)
270 - 16th c street cries of Paris
280 - pocket or belt mirrors 16th c
289 - history of the Paris Palace of Justice
295 - value of cowrie shells
323 - food cooperatives
336 - Nuremberg corporation drinking cup
340 - Remington's writing machine
346 - A trip to Arabia
363 - date of Michelangelo's death disputed by reference works
387 - Lenapi war chant
391 - slavery in Europe until the 16th c (brief note)

End quote
"History is the greatest black comedy there is."
One of Robin Williams' high school teachers