From CHEZ JIM Books:
An EIGHTEENTH CENTURY VEGETARIAN COOKBOOK:
APRES MOI LE DESSERT - VOLUME II
and a history of the CROISSANT:
AUGUST ZANG AND THE FRENCH CROISSANT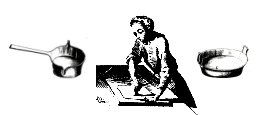 18th CENTURY RECIPE: French bread
I was not expecting to find a true recipe for bread in our period, since the French books that describe making it at all outline a whole slice of village life: choice and storage of grain, how to proceed at the mill, choosing river or well or cistern water, boiling it or not, etc. The process was part of a larger infrastructure that went well beyond our idea of a recipe. And in fact, I have yet to find a true recipe in French. It turns out however that Elizabeth Moxon's English Housewifery Exemplified (1764) not only has two recipes for bread, both are for FRENCH bread:
427. _To make_ FRENCH BREAD.

Take half a peck of fine flour, the yolks of six eggs and four whites, a little salt, a pint of ale yeast, and as much new milk made warm as will make it a thin light paste, stir it about with your hand, but be sure you don't knead them; have ready six wooden quarts or pint dishes, fill them with the paste, (not over full) let them stand a quarter of an hour to rise, then turn them out into the oven, and when they are baked rasp them. The oven must be quick.

60. FRENCH BREAD.

To half a peck of flour, put a full jill of new yeast, and a little salt, make it with new milk (warmer than from the cow) first put the flour and barm together, then pour in the milk, make it a little stiffer than a seed-cake, dust it and your hands well with flour, pull it in little pieces, and mould it with flour very quick; put it in the dishes, and cover them with a warm cloth (if the weather requires it) and let them rise till they are half up, then set them in the oven, (not in the dishes, but turn them with tops down upon the peel;) when baked rasp them.
The fact that these are richer (in terms of ingredients) than the French preparation that follows makes me wonder if the English did not ordinarily eat a simpler bread and regarded "French bread" (whether or not it was truly like that in France) as a luxury item. Certainly, the fact that the first recipe calls for "fine flour" suggests that this was not the kind of coarse bread eaten by the poor.

Parmentier's book for housewives on the best way to make bread (Avis aux bonnes ménagères des villes et des campagnes, sur la meilleure manière de faire leur pain(1777)) is over 100 pages long and includes the following subjects:
Of choosing Wheat Of keeping Wheat
Of some precautions to use in taking Wheat to the mill
Of Wheat at the mill Of Flour
The proper ways to know flour's quality
Of water in bread
Of Leavening
Of the preparation of Leavening
Of using bran in the Kneading of dough
Of Yeast & Salt
Of the Kneading Trough
Of the Oven
Of Kneading the dough
Of Cooking the bread
Of Rye
Of Corn Dredge
Of Barley
Of Turkish Wheat
Of Buckwheat
Of Potatoes
Of Gruel
Of Bread
Letter from the Mayor& Aldermen of the town of Mondidier Letter from M. de la Tour, Lawyer
But his basic instructions for actually making the bread involve flour, leavening and water, and do not differ greatly from those given by Bonnefons in Les délices de la campagne over a hundred years before (1655).
One difference is in discussing leavening. The idea of using brewer's yeast in bread came a bit later in the century and was briefly controversial (the superior flavor quickly resolved the controversy.) Leavening before that came first from the local baker and was carefully kept 'alive' through different batches of bread.
Bonnefons is also more specific about class, offering recipes not only for 'common Bread' and 'Master's Bread', but a 'Valet's Bread' somewhere in between. He too offers more of a complete manual (after discussing wheat, mills, etc.) than a true recipe. (NOTE: a minot was an old measure about equal to a bushel, or eight gallons, equal to, in the UK, 36,37 liters, and in the US, 35,24.]
And for the Making we will first speak of common Bread, which will be that much better, the more flour there is; nonetheless, if you want to make a good sort of Bread for Valets, you will put in the Mill four minots of rye [or coarse] Wheat & a minot of Barley, (which is about enough for an Oven), & have it sifted with the large Bolting Cloth. From this flour, you will take about a Minot at ten o'clock in the Evening, & will put it with leavening, which you will cover well with the same Flour. To soak it, in Winter, use Water as hot as you can bear on your hand; in Summer, it is enough that it be a little warm, & thus in proportion for the two other temperate seasons. The next day at the break of day, you will put the rest of your Flour with leavening, & knead all this, working your Dough for a long time, keeping it rather firm; because the softer it is, the more Bread you will have, but also it will last you less time, as more is eaten when it is light, than when it is firm. Your Dough being well-kneaded, put it back in the Bin, turning it over, & push your fist into the middle of the Dough, until the base of the Bin, in two or three places, & cover it well with bags and covers. When at the end of some time (more in Winter, & less in Summer) you look at your Dough, & you see your holes completely closed up; it is a sign that the Dough has risen enough, you can have the Oven warmed by a second person, (because it is almost impossible that one alone can be spread between the Oven & the Dough) you will divide it into pieces, & make them about sixteen pounds each, or a little more; then you will form this dough into loaves, & lay it on a Tablecloth, making some space between each loaf, lest they touch in swelling.

Your Oven being hot.. take out the Firebrands & Coals, lay some lit Coals on a side near the mouth of the Oven, & clean it with the maulkin which will be made of old linen, which you will moisten in clear water, & twist it before scrubbing, then you will block it up to let it bring its heat to bear which will blacken the bread & a little after you will open it, to fill the oven as neatly as you can, putting your largest Loaves at the rear and along the sides of the Oven finishing by filling it in the middle. ...The bread being put in you will close the Oven up well, & seal it all around with moistened cloths, to keep the heat in well: four hours later, which is about the time needed to cook large Loaves: take one out to see if it is cooked, & particularly on the underside, what is called having Star, & tap it with the end of your fingers: if it resounds, & if it is firm enough, it will be time to take it out, if not leave it still some time, until you see it cooked, experience will soom make you knowledgeable: because if you leave it in the Oven too long after it is just right, it will redden inside and will be disagreeable. When you have taken your Bread out, you will rest it on the side that is most cooked... You will let your Bread cool, before closing in the Bins, where you will always rest it on the side..

To make Burgher's Bread or Master's Bread, you will measure from the Flour what you want to cook, take the sixth part to put with yeast, & make a hole in the Dough with the Fist, as for the common Bread: when it has risen, you will exchange yet as much Flour as you soak with this yeast, & let it rise again & prepare it as above; when ready, put in the rest of your Flour with water in proportion, & let it all rise again, then form the Loaf, & handle it like the preceding one." (6-10)