From CHEZ JIM Books:
An EIGHTEENTH CENTURY VEGETARIAN COOKBOOK:
APRES MOI LE DESSERT - VOLUME II
and a history of the CROISSANT:
AUGUST ZANG AND THE FRENCH CROISSANT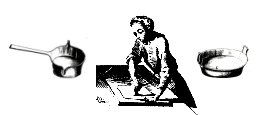 18th CENTURY RECIPE: Hollandaise Sauce
To seek out Hollandaise sauce in the eighteenth century is to end up on two different paths: one in search of the (many) recipes prepared "Dutch-style" (à la Hollandaise), the other in search of sauces made with butter and egg yolks (preferably emulsified, like mayonnaise.)
Several Web sites give a history of Hollandaise sauce, though naturally they do not quite agree:
Sauce Hollandaise, as we now know it, is the modern descendant of earlier forms of a sauce believed to have been brought to France by the Huguenots. So, its prototype appears to have actually been a Flemish or Dutch sauce thickened with eggs, like a savory custard, and perhaps a little butter beaten in to smooth the texture. I'm not up on the finer details of Huguenot history, but that would put the prototype sauce at what, late sixteenth, early seventeenth century?
http://www.florilegium.org/files/FOOD-CONDIMENTS/sauces-msg.html
History - Most historians agree that it was originally called Sauce Isigny after a town in Normandy, Isigny-sur-Mer, known for its butter. Today, Normandy is called the cream capital of France. During World War I, butter production came to a halt in France and had to be imported from Holland. The name was changed to hollandaise to indicate the source of the butter and was never changed back.
http://www.whatscookingamerica.net/History/SauceHistory.htm
The sauce using egg yolks and butter appeared in the 19th century. Though various sources say it was first known as "sauce Isigny" (a town in Normandy said to have been renowned for the quality of its butter), Mrs. Isabella Beeton's Household Management had recipes in the first edition (1861) for "Dutch sauce, for fish" (p. 405) and its variant on the following page, "Green sauce, or Hollandaise verte".
http://en.wikipedia.org/wiki/Hollandaise_sauce
But these sites offer little in the way of pre-nineteenth century recipes.
Certainly, there are numerous recipes "à la Hollandaise" in period cookbooks, as in these three from the Dons de Comus (1750). The first two of these recipes have some clear common elements with modern Hollandaise sauce - they use butter as a key ingredient, and lemon juice to "sharpen" the sauce. Though egg yolks are not mentioned, they had often been used as binding over the centuries and it would not have been surprising if some cooks simply added them to these or similar recipes.
Hollandoise [sic] Sauce

Put in a pot two sticks of butter, a little four, two cloves of garlic stuck with a clove, slices of lemon, a pinch of chopped and blanched parsley. Cover with a good bouillon, quintessence, or consommé. Turn on the fire and give it a light consistency. Take out the lemon slices and garlic; when serving, add lemon juice.
(I, 54)
Chickens Hollandoise

Prepare them for the spit, do not cook them more than is needed for entrées of poultry on the spit, and [leave them] white on top. Take two glasses [missing text?] of sticks [sic] of excellent butter, a pinch of blanched and chopped parsley, a garlic clove studded with a clove, a little flour. Turn this on the fire; in finishing [add] lemon juice and serve on your chicken.
(II, 163)
This on the other hand shows how different a "Dutch-style" preparation might be:
Roasts à la Hollandoise

Take anchovies, well-cleaned and desalted. Take out the fillet and cut them neatly into matchsticks. Make a mixture of oil, parsley, spring onion, shallots, crushed pepper, chopped anchovies. Your roasts being done put on them a layer of this mixture, and garnish the top with little anchovy fillets neatly laid out.
(III, 143)
Somewhat later (1806), Viard offers a very different Hollandaise sauce:
Take reduced velouté in which you will put whole peppers, a trickle of tarragon vinegar, you will keep your sauce hot: just at the moment of serving it, put in half an egg of fine butter, that you will melt in the hot sauce; then you will take a little spinach green [juice from cooked spinach] which you will blend into your sauce as you serve it.

This sauce can be made without velouté; you will need a little white roux, which you will moisten with a little stock, as from cooking poultry, noix [approximately, rump] of veal, veal tendon, etc. Your liquid must be colorless; when your sauce is reduced and has a good taste, put in the things as above.
Le Cuisinier Imperial (53)
What about sauces that did include both butter and egg? (None, as it happens, are called "Hollandaise".)
The article above from Stephan's Florilegium cites a 1651 item from La Varenne "calling for 'good fresh butter, a little vinegar, salt, nutmeg, and an egg yolk to bind the sauce; take care that it does not curdle.'" But though the webmistress of What's Cooking America was kind enough to tell me the name of the recipe ("Asparagus in Fragrant Sauce"), I have not been able to find this in the copy of Le Cuisinier Francois I have available.
The following English recipe from 1736 does say to "thicken up your sauce with yolks of eggs and butter, and pour it in the dish with your meat." The overall effect here (especially on lamb) does not seem as if it would much resemble today's Hollandaise sauce, but it does show the two were used together in a sauce:
To marinade a Leg of Lamb: Take a leg of lamb, cut it in pieces the bigness of a half-crown; hack them with the back of a knife; then take an eschalot, three or four anchovies, some cloves, mace, nutmeg, all beaten; put your meat in a dish, and strew the seasoning over it, and put it in a stew-pan, with as much white-wine as will cover it, and let it be two hours; then put it all together in a frying-pan, and let it be half enough; then take it out and drain it through a colander, saving the liquor, and put to your liquor a little pepper and salt, and half a pint of gravy; dip your meat in yolks of eggs, and fry it brown in butter; thicken up your sauce with yolks of eggs and butter, and pour it in the dish with your meat: lay sweet-breads and forc'd-meat balls over your meat; dip them in eggs, and fry them. Garnish with lemon.
E. Smith's Compleat Housewife 1736
From just a bit later, in 1750, the Dictionnaire des Alimens offers this rather tart combination of the two ingredients, which in fact does not seem too far from modern Hollandaise:
Sour Sauce

Put in a pot three or four egg yolks, a little mace , a glass of vinegar, a little water, a lump of butter, salt, pepper; cook your sauce stirring with a wooden spoon and be careful that it does not curdle; you can also put in a lump of kneaded butter, that will bind it better; another time anchovies; this sauce is normally used for perch or other fish; it is served in a sauceboat or on the fish.
III (346)
Whatever the origin of the American version, by 1853, a French cooking dictionary offered three recipes for the sauce, the first of which sounds very much like the modern one (bearing in mind that lemon juice, vinegar and verjuice have often been used interchangeably):
Yellow sauce hollandaise (for turbot or pike) - Put in a pot, with a glass of good vinegar, twelve raw egg yolks, a quarter pound of butter, whole pepper, salt, pimento, nutmeg; heat all this in a double-boiler, stirring the whole while; when it begins to take, that is to thicken, add a pound and a half of very fresh butter, stirring until the butter is melted and everything well blended, then pour this sauce through a strainer.
Dictionnaire de la Cuisine Francaise Ancienne et Moderne (446)