From CHEZ JIM Books:
An EIGHTEENTH CENTURY VEGETARIAN COOKBOOK:
APRES MOI LE DESSERT - VOLUME II
and a history of the CROISSANT:
AUGUST ZANG AND THE FRENCH CROISSANT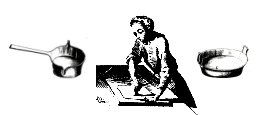 18th CENTURY RECIPE: Bayonnaise/Mahonnaise/Mayonnaise
In the Dictionnaire General de la Cuisine Francaise Ancienne et Moderne, published in 1853, one item in the article on "Sauces" begins as follows: "Bayonnaise sauce (called 'mayonnaise' by ignorant teachers and hucksters)". Though unusually categorical (especially given that he cribbed the recipe itself), the author was not alone in suggesting that this sauce originated in Bayonne and so, like a woman from that city, was 'Bayonnaise'. Even today, a somewhat spicier version exists under that name in Bayonne. But the more common explanations are either that the word was a corruption of "mahonnaise" (for the duke of Richelieu's victory at Mahon) or "mayennaise" (for the duke of Mayenne):
Mayonnaise made its English-language debut in a cookbook of 1841, according to the Oxford English Dictionary. Mayonnaise is generally said to have been created by the chef of Louis François Armand du Plessis, duc de Richelieu in 1756, to celebrate the Duke's victory over the British at the port of Mahon (the capital of Minorca in the Balearic Islands). The French spelling for this Spanish port is 'Mahón', and thus 'sauce from Mahon' is 'sauce mahónnaise', from which it was said the word 'mayonnaise' was derived. This often-repeated story seems flawed, however....

In fact it may appear more credible that sauce Mayonnaise was originally named for Charles of Lorraine, Duke of Mayenne (in northwest France), who presided over the meeting of the Estates General in January 1593 that had been summoned for the purpose of choosing a Catholic ruler for France. ...

Another proposed etymology points to the French city of Bayonne; 'mayonnaise' would be a corruption of bayonnaise.
http://en.wikipedia.org/wiki/Mayonnaise
If anyone wonders, there does not seem to be any French place called 'Mayon' - if there were, you can be sure they would have staked their claim as well. Also, as generally proves true for stories about the origin of any food, no one cites any contemporary accounts to support either the Mahon or the Mayenne version, and the first mentions of the sauce are to be found well after the events in question.
The Larousse Gastronomique suggests that the original word was "moyeunnaise" from (the author claims) the old French word "moyeu", for an egg yolk, since the sauce is essentially an emulsion of egg yolk and oil. But aside from the absence of either word in period dictionaries, there is one significant problem with this explanation: the earliest recipes for mayonnaise use jelly (made from meats or elk horn, and sometimes highly flavored itself), rather than eggs, as the main binding ingredient:
Chickens Mayonnaise Split up two cold chickens which have been cooked in a frying pan as perfectly as possible; put the pieces in a pot with some velouté, eight skimming spoons full, four of jelly, and two teaspoons of tarragon vinegar, a little coarse pepper; reduce all this by a third; if your sauce browns a little, put in an egg as binding; when it is reduced to the right degree, add a little parsley and tarragon chopped well; you will then bring your sauce to a boil twice; see if it is properly salted, and put it on your cold pieces of chicken; then let it cool; you will lay it out on your dish, and pour your sauce, which will be almost hardened, on your chickens; decorate this with jelly and croutons.
Viard, Le Cuisinier Imperial (1806) (326)


Mayonnaise Sauce

Put two or three teaspoons of fine oil in an earthen jar, and two of tarragon vinegar; add sufficient tarragon, shallots, salad burnet, chopped very fine, salt, coarse pepper, two or three spoonfuls of jelly or aspic; stir all this well with a spoon: the sauce will thicken and form a kind of pomade. Taste it; if it is too salty or too vinegary, mix in a little oil; if you would like it clear, crush up the jelly with your knife, and mix it lightly with your seasoning.
Beauvilliers, l'Art du Cuisinier (1814) (66)
As the nineteenth century began, mayonnaise still seems to have been a curiosity to those from other countries. Kotzebue, a German travelling in France in 1804, comments on the enormous variety of dishes, then says "the choice is that much more difficult, because one does not always know the technical terms. For example, who could guess what a chicken mayonnaise, a fowl galantine or an epigram of lamb is?" (Kotzebue, Souvenirs de Paris en 1804 (267))
By the thirties, mayonnaise had become the familiar egg and oil emulsion of today, though no source consulted here says how. Albert's Le Cuisinier Parisien (1838) includes a recipe which is almost exactly that offered (albeit irritably) by the Dictionnaire General fifteen years later:
Blend two egg yolks with the juice of a lemon; add mixed salt and spices; little by little pour oil on the eggs, stirring the whole time; the sauce will soon thicken; add from time to time a little strong aromatic vinegar. One can keep adding oil so long as the sauce does not lose consistency.
Dictionnaire General (437)
Anyone, by the way, who has never actually TRIED to make their own mayonnaise should be warned that the phrase "the sauce will thicken" should be considered optimistic. Making mayonnaise is one of those simple arts that requires some practice to become so.

Otherwise, if you simply must know more about the subject, it has its own Web page: How Products Are Made - Mayonnaise