THE OLD REGIME POLICE BLOTTER: Prostitution (3)
Old Regime references to prostitutes include a number of standard terms, most of which are unambivalent: "fille publique" ("public girl"), "fille libre" ("free girl"), "de mauvaise vie" ("of bad life"), "de debauche" ("of debauche"), "d'amour" ("of love"), "de joie" ("of joy"), "de prostitution" ("of prostitution"), "raccrocheuses" ("hookers"). Another, slightly more euphemistic term was "fille/femme du monde" ("girl/woman of the world"). This appears as early as 1750 and apparently was already standard under Louis XV (Intermédiare des Chercheurs, 1869 (436, 521, 679); 1897-2 (166-167)). For nineteenth century readers, it caused some confusion, since the term by then referred, simply, to a sophisticated woman of a certain class. It had sometimes had that sense in the previous century, but more often the proper (in both senses of the word) term was femme du grand monde ("woman of the great world"). (The "grand", it seems, fell away with usage.) Sartine's Journal de Police is cited as describing a "woman of the world" as "a girl who is available to everybody ['the whole world'], the degree of prostitution below that of the party girl, the theater extra, the gallant woman, the kept woman. They do not even call the official pensioners of two or three well-known pimps 'women of the world'". But some references already cited seem to simply refer to a prostitute, without distinction.
The (nineteenth century) Intermédiaire's discussions, by the way, include this striking remark: "It is rather curious to see this phrase 'woman of the world' sometimes taken in a shameful sense, while the words 'man of the world' are always in praise or flattering; the same association or the same contradiction [exists] between courtisan and courtisane, and also the Italian words *cortigiano* and cortigiana*.." (1869 (679)). (The item is signed with initials, so the writer's gender is unknown.)
-- EXILED TO... CORSICA?
There is undoubtedly a wider story behind this unusual (and of course fruitless) effort. The "convents" in question were probably those for "Penitents". The idea that any woman who did not actually have a venereal disease was "cured" in the Dantesque hospitals has a grim humor to it.
Given the tawdry conditions in which many of these women lived, for some the West Indies and Corsica may have been a distinct improvement.
Extract of a Letter from an Englishman in Paris, August 27.
'Within a few Days near seven Thousand Women of the Town have been confined in different Hospitals and Prisons; when cured, destined for Corsica and the West India Islands. The Police have resolved not to suffer any Ladies of Pleasure in Paris but what are acknowledged by some Abbess to be of her Convens, and Physicians are paid daily to visit those virtuous Retreats.'
Virginia Gazette, December 10, 1772
-- THE JUDGE'S DAUGHTER
D'Argenson goes on at unusual length about this and the next case. Both, probably not that unusual in the larger scheme, give a colorful idea of how some women made their way at the time.
ADVENTURES OF A PROSTITUTE - Paris April 20, 1703. - You have not heard for a long time of a more dangerous nor more disgraceful prostitute than she of whom I am obliged to tell you: after having used several names, she has chosen that of Anastazy and came to lodge across from the quarters of the Musketeers, as the place most convenient to her trade and the most fertile in young dupes.

She had, under her direction, two young girls she claimed to be hers, of which each one was pregnant, and whom have just given birth at a midwife's on the rue de Saint-Marquerite, ready to return to the same life and to run the same risks at the whim of the first comer.

The history of this mother is a succession of prostitutions, of low schemes and of debauchery, at which, accustomed as I am to hearing such adventures, I could not help but be surprised.

Her father was one of the judges of the port of Malta. She first took up arms (so to speak) with M. le Chevalier de Colbert who, to be rid of her, forced the son of a poor tavernkeep of Beaucaire to become her husband.

This marriage authorized her debauchery by putting her in a position to ignore all limits. Her husband took her to Marseille where, after passing through several hands, she acquired significant protection. But the ardor of her temperament did not allow her to maintain it long: she gave herself without reserve to any who came along, insulted and had insulted her husband, who soon died, either from sorrow or, as is more likely, by some other simpler means which women impatient to be free are sometimes tempted to use. Once she was a widow, she associated herself with the two worst prostitutes in the city of Marseille, of which one was a reseller and the other known by the name of the Nurse.

Grault protected them in their trade, and all three together worked to debauch young people of whom they conducted a rather useful traffic.

Anastazy sold her eldest daughter to the lieutenant of the galley commanded by M. the bailiff of Noailles, but other people, with better intentions, drew her to a convent, with her sister, where they pay their pension by charity.

No longer daring to appear at Marseille, she dragged her debauchery to Tarascona, to Beaucaire, and to Aix, where the president Califer showed her the general hospitality which he provides, it is said, a little too willingly to persons of this sort. When she found herself at Lyons, she again displayed her worn charms, and the number of her dupes was rather large: Paris, a banker's clerk, Arthes, apothecary, Basset, tennis-court keeper of the burned opera first fell into the trap. But this last after having used up almost all his wealth to support this unworthy person, took her to Paris with her two daughters whom she sold as new. It is by the intrigue of Basset, notorious crook, and of her brother newly returned from Spain, that she has fooled so many, surprised clothes-sellers and merchants and fooled so many different people.

I drove her from the Musketeers' neighborhood by a police sentence which I had carried out at once, but I have learned she still lodges in the same suburb where other neighbors, more peaceful, let her do as she pleases without complaint. It is said as well that.. she claims to be the wife of an Italian actor named Cyntio whom she never sees; she adds that her daughters are married to officers of the first distinction, who will appear in due time, and, on this basis, she imagines each day new schemes for which she claims to obtain immunity by some clever trick or by the skills of her protectors.

It seems then that there is no less justice than necessity in ordering her to be locked up in the Hospital by order of the King; some clergymen of a distinguished piety even promise that, if this unworthy mother was put in penitence, it would be easy to extract her daughters form involvements which keep them in debauchery and to make them desire a wholesome retreat.
d'Argenson, Rapports (117-121)
-- INDISCREET
D'Argenson's opening sentence in this account is key to understanding the judicial attitude towards prostitution in Old Regime France. While it was not quite "Don't ask, don't tell", a lack of discretion seemed to be considered as big or bigger a crime than prostitution itself. The conclusion here also underlines another concern: the damage a manipulative prostitute could do to a family.
Saint-Simon had a low opinion of Pontchartrain, the Secretary of State to whom d'Argenson addressed most of his reports, and one can give give various constructions to his desire here and in another case of prostitution to meet with the accused.
Anyone shocked by this woman's casual disposal of her newborns might bear in mind that Rousseau claims to have show similar disinterest in his own accidental offspring.
By sequence, this undated item appears to be from November 1703.
PROSTITUTE - I know that woman who hide their prostitution and who have some trouble from their unruliness, are not the true object of the police, but when they revel in their disorder and, not content to give themselves to the first comer, they get husbands to leave their wives, to forget their families and to renounce the most essential obligations, the magistrate cannot be too attentive in correcting them, nor neglect doing without failing in one of his most important duties; the woman Forgeret is of this type and it has pleased the King to use his authority to send to the Hospital and to the Bastille a great number of so-called witches who have disturbed less households and bewitched less hearts than this disgraceful creature.

She is from Abbeville, from which it was necessary to drive her, over six years ago, for her bad conduct. She sought more brilliant adventures among the officers of the garrison of Namur and other towns of Flanders; she found an officer who took her to Paris and left her a few days later. Every neighborhood in turn witnessed her disorderly behavior, and five or six times I condemned to a fine one of her sisters that she had attracted to her side for company.

She got it into her head to marry a young man of good stanidng and my intervention was not without effect in sparing him this misfortune. For that I used promises and threats, but her natural lack of moderation was more useful to us than all the means my zeal could suggest.

Finally she attached herself to married men and she is, now, on her twelfth or fifteenth dupe, without counting some members of the lowest orders of the clergy and four or five monks. Several children have escaped her [sic], but it is not known what has become of them. She is pregnant again and apparently not prepared to care more for this one than the others.

The man that she holds under her spell sacrifices to her all his worth, and refuses to his wife and children the most necessary things. He will, he says, have any sentence overturned if I am so bold as to pass one on this woman. He would rather she cost him ten thousand francs than to see her suffer for a quarter of an hour. In short, he is out of his senses or rather a sort of madman who must be cured despite himself by shutting up in the Hospital, by superior order, she who has upset all his reason.
Pontchartrain's annotation: "Need some detail; facts, proofs. To talk to her.
-- INCORRIGIBLE
Though many prostitutes seem to have taken up the trade out of need, this example suggests that some women were, for whatever reason, driven to it.
By sequence, this undated item (from d'Argenson) appears to be from January or early February, 1710.
INCORRIGIBLE PROSTITUTE - The woman Lebeau, wife of Cardinal, is known as a prostitute, that her husband was obliged to abandon, sir Pasquier, her step-father, whose request you have done me the honor to send me has had the charity to remove her to his place, but her inclination towards debauchery having always overcome his just reproaches, she had the insolence to want to strike him with a knife, when he wanted to stop her, at least, from frequenting places of debauchery. I would add that M. Paneau, director of Aids, who personally knows sir Pasquier's probity, and the causes for complaint he has against his step-daughter, has assured me that she deserved to be put, for some time in the... Hospital-General, where care will be taken to pay a decent pension, so that she will cost nothing, and I think that nothing permits me to not be of this opinion.
(251)
From CHEZ JIM Books:
An EIGHTEENTH CENTURY VEGETARIAN COOKBOOK:
APRES MOI LE DESSERT - VOLUME II
and a history of the CROISSANT:
AUGUST ZANG AND THE FRENCH CROISSANT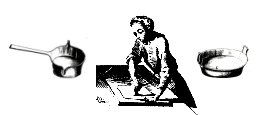 18th CENTURY RECIPE: Crowned salad
This recipe, from La Varenne's Le Cuisinier Francois, is confusing on several points: it uses two citrus fruits rarely seen today, it says first to use one or the other, and then refers to them as if they were being used together, it outlines a process that is not completely clear, and even appears to require a specialized implement (possibly a kind of corer?). It is also a little hard to envision how to consume the result.
The advantage, on the other hand, of this salad of citrus fruits, garnished with other colorful ingredients, is that it probably looks very festive and refreshing on a summer table.
In a nutshell, the recipe outlines how to make a kind of crown out of (presumably large) citrus fruits, garnished with others (lemons and oranges) which are decorated or filled with small heads of lettuce, pomegranate seeds, pistachios and almonds, and, optionally, finely chopped flowers. The two fruits first mentioned seem to have been rare even in the period. Yet both - each a variety of lemon - can be found today.
The poncirus is probably poncirus trifoliata: "Known as the Japanese Bitter Orange, or Trifoliate Orange, this is the hardiest close relative of Citrus."
The best rootstock for citrus for the Louisiana home citrus orchard is trifoliata (Poncirus trifoliata Rubidoux). It is the most cold hardy of the citrus rootstocks, resistant to foot rots and is tolerant to wet soils. [Often, in Texas, the rootstock will be Poncirus trifoliata or its derivative 'Flying Dragon.'--Ed.]
http://aggie-horticulture.tamu.edu/southerngarden/Figcitrus.html
The TLF says that poncire was mentioned by Rabelais and is best eaten candied.
Thomas Dyche's Nouveau dictionnaire universel des arts et des sciences, françois, latin et anglois (1756) describes it as a kind of lemon with a very thick skin and little pulp (which in turn is very much like a citron).
Despite its resemblance to the word "ballotine", the word "ballotin" is absent from many dictionaries. Thomas Dyche's work says that it is a type of orange tree "whose fruits are large and long." The Encyclopedie says it is a kind of lemon tree, and the more modern Larousse Gastronomique (here cited secondhand) says:
CITRUS BALOTINUM
is a variety of orange tree. Its leaves, larger than those of ordinary orange trees, are serrated around the edges. The fruit of this tree is somewhat similar to the lemon and has the same properties.
http://food.oregonstate.edu/glossary/c.html
Vasar Books offers an old engraving of a ballotin here (from Joseph Risso's Histoire et Culture des Orangers (1818)).
For serious citrophiles, these and other obscure members of the family are listed in the 62-page Citrus of the World - Citrus Directory available in pdf
Americans who are tempted to adapt this recipe may want to use a grapefruit, or an unusually large lemon (or its tougher cousin, the citron).
Crowned Salad

Take a large poncirus or ballotin, & cut it at both ends, remove the skin down to the white, take out the pulp of the poncirus with a large knife the length of the ballotin, & of the thickness of a white crown [*ecu*, a large coin] all around the ballotin, without breaking anything in turning it like a screw until the juice, let the pulp that you have taken off soak, stretch out a napkin on a smooth tabletop & lay the pulp of the ballotin out on it, & cut it with steel irons in such a way as to have the height, length and circumference that you want, garnish the inside with little heads of lettuce, & put on top of the lettuce heads as on a little rock candied lemon peel that you will have grated, garnish it with pomegranate seeds, take common lemons, remove the peel down to the white, take off the pulp in rounds of its length & height, & cut them like the large crown, garnish your crown all around with little crowns of lemon, & fill them with little green herbs, & put on top of each crown a little rock, take oranges, remove the skin & cut them like the others, & make a round on the edge of the dish with little crowns & fill them with pomegranate seeds, pistachios & peeled almonds cut into pieces, or flowers chopped up fine, garnish all this with pomegranate seeds & whole pistachios, & serve it with sugar and vinegar.

The irons for cutting this salad can be found at a Cutler's in the Faubourg St. Germain on the rue de la Boucherie.
(156-158)

FOR READERS OF FRENCH

Magasin Pittoresque: No - 18
REMINDER: The Magasin Pittoresque was a nineteenth century French magazine. Issues can be found on Gallica. Also, most articles are accompanied by at least one image, and so some may interest even those who do not read French.
Poussin: "I have only one hand and a weak head" - Hindus, Zulus and Jews all have an answer for a sneeze - A coat of arms with three wheels and two stars, for the wheelwrights - A cabinet decorated by a French painter was send from Vienna to Mazarin - A blind engineer guided a traveler to his inn, played bowls, and hunted - Louis XIV started a war... of buttons - The Port-Royal method renamed consonants to help children learn to read - A perroquet (parrot) to hold a perruque (wig) = a perruquet? - On one of Van Heyden's paint, can be read the text of a Bible, five centimeters high - Coleridge's daughter: "I think the current century, busy, breathless, overdoes the positive side of education and consigns to oblivion the efficacy of the negative side." - June 24, 1783, Lavoisier proved that water contained oxygen - He returned to the Bey to surrender his head - Blue, brown, black, green: the stylish colors of the Revolution - Around 1750, surgery reclaimed its respect - Crushed by debt, a writer borrowed a guinea to eat ortolans - In the Chinese version, Louis XIV laughed - What would be a nail-maker's masterpiece? - Richard hunted during his captivity, but never heard Blondel - The "national meal of the Algerians" has fed many a student in Paris - A Huguenot's enamels were imported from England into France - The schako was the big innovation for uniforms under the Revolution - Rembrandt and freedom, and no Louis XIV - "August 24, 1553 - I beat Chantepye this morning because he beat Raoul" - The roofer makes nothing, but puts what others make in place - Philip II: "I would carry the wood to burn my son, were he as perverse as you" - Why shoe a goose? Why a duck? - Pierre Broussel deserved better from history - Richardson bought his own candle, rather than use his master's - Job interview for a cook: "Will you know how to peel my eels?" - Don't cite Rousseau when you're tried by the Inquisition - Louis, king, Virgo, rising sign Scorpio - A satirist who preferred equestrian scenes to satire - Flechier was received in the French Academy as the same day as Racine - a cup made for trembling old hands - The popularity of lace: a "curious episode"? - On July 17, 1789, Louis XVI came to watch the Bastille be demolished (not a clue, I'm telling you, the guy did not have a CLUE) - How do you say, "Take my horses to the forge to be shoed?" - How a mason got the Legion of Honor - "The king marches step by step in every direction, to come to the aid of his subjects" - "One would be wrong to think that the nineteenth century opened a new ear in fashion" - A great general died of the stone - A high price to dance with the Great Mademoiselle - They weren't "dentists" until the mid-eighteenth century - The Academy of Sciences started at Papa Mersenne's - A knife as pretty as a pastry - Do you really want to annoy the Bey? - By 1670, a tenth of the Paris population consisted of lackeys - Philodemus' library was almost entirely Greek - Was the first motorboat electric? - A lettre du cachet led to a steamboat - Descartes fought in Holland; Florian commanded a company of dragoons - Louis XIV: "I've always seen it done that way" - The pontiff spoiled his favorite convert
1- allegorical drawing by Poussin
32 - Little dictionary of trades: wheelwright
36 - a button collection
40 - porcelain wigholder
67 - fashion: 1799-1800
94 - Little dictionary of trades: surgeon
119 - Little dictionary of trades: nail and needle-makers
151 - enameled vase-candleholders from Battersea
157 - military uniforms under the Revolution
160 - Little dictionary of trades: cutler
180 - A glorious period in Dutch history
184 - Little dictionary of trades: roofer
219 - Little dictionary of trades: cook
280 - trembling cup from Saint-Cloud
291 - Little dictionary of trades: laceworker
316 - projects for the place de la Bastille
323 - fashion under the Empire
339 - Little dictionary of trades: dentist
348 - the founding of the Science Academy
352 - pastry knife 17th c.
372 - kissing Ali-Pacha's hand (1740)
379 - Little dictionary of trades: servants

Individuals
33 - Jean-Guillaume Baur, painter
34 - John Metcalf, blind engineer
40 - Pascal's sister's teaching method
41 - Jean Ven der Heyden, painter
47 - Lavoisier, discoverer of oxygen and more
60 - Porcon de la Barbinas, "a Breton Regulus"
107 - men of letters in debt
108 - Chinese porcelain showing Louis XIV and family
209 - Pierre Broussel, "Father of the People"
219 - Richardson's portrait of himself
224 - Maffre des Rieux, arrested by the Inquisition
241 - Louis XIV's horoscope
244 - Henry-William Bunbury, caricaturist; Esprit Flechier, painter
319 - Jean-Marie Pichou, a brave mason
328 - General Mathias Gallas
331 - Mlle de Montpensier and the peasant
398 - Claude du Jauffroy - inventor of the steamboat?
407 - Soldier/savants
408 - Louis XIV, Mme de Maintenton and arbitrary imprisonments
408 - Clement IX's feast for Christina of Sweden

Off-topic but of interest

6 - God bless you!
46 - Sarah Coleridge's letters
122 - Richard the Lion-heart's captivity
133 - couscous
182 - the journal of a gentleman of Cotentin 16th c
186 - autodafes and the Spanish kings
208 - shoeing a goose (Beverly cathedral, Yorkshire)
318 - a 14th c phrase book for English tourists
322 - Rabbi Ben-Ezra's chess rules (12th c.)
386 - a library at Herculanum
396 - electric canoe

End quote
"Oh noble patriot... who dreamed of Freedom in a slave's embrace..."
Charles Dickens (on Thomas Jefferson), Martin Chuzzlewit
P. N. Furbank, the editor of the Penguin edition, traces this remark to one version of Thomas Moore's much-quoted lines from "To Thomas Hume":
The weary statesman for repose hath fled
From halls of council to his negro's shed;
Where, blest, he woos some black Aspasia's grace,
And dreams of freedom in his slave's embrace.
http://xroads.virginia.edu/~HYPER/ADAMS_HISTORY/ch06.html
Though they may have heard general rumors, presumably, neither Dickens nor Moore knew of Sally Hemmings.
Otherwise, for those unfamiliar with Dickens' opinion of the United States, this comment nicely typifies his novel's Swiftean view of American self-satisfaction.