From CHEZ JIM Books:
An EIGHTEENTH CENTURY VEGETARIAN COOKBOOK:
APRES MOI LE DESSERT - VOLUME II
and a history of the CROISSANT:
AUGUST ZANG AND THE FRENCH CROISSANT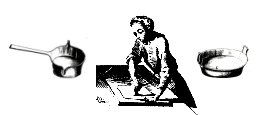 18th CENTURY RECIPE: From the grill
As they left the 18th century, what were Americans eating in July? Not much from the grill, if we're to believe THE FRUGAL HOUSEWIFE, OR Complete Woman Cook from 1803:
IN JULY.
DINNER. Green goose, with gravy sauce; neck of veal boiled, with bacon, and greens. Or,--Roasted Pig, with proper sauce of gravy and brains pretty well seasoned; mackrel boiled, with melted butter and herbs; green pease. Or,--Mackrel boiled, with melted butter and herbs; fore quarter of lamb, with sallad of coss lettuce, &c.
SUPPER. Chickens roasted with gravy or egg sauce; lobsters or prawns; green goose. Or,--Stewed Carp; ducklings, with gravy sauce, and pease.
The "sauce of gravy and brains" sounds especially tasty.
For those in the United States who would like to mix more recent tradition with some 18th century touches, the grill was not unknown in our period (nor was chopped beef, though it was prepared in rather un-hamburger like ways.) La Varenne gives some general instructions on grilled meats:
Carbonnade or Grilled Food

Take a young pigeon, or another bird, & split it the length of the stomach, having opened it, powder it inside with bread crumbs, & salt, & pepper, mix togetehr, & put it to cook on the grill, then make on it a sauce of vinegar, one can also add onion. One can cook in this way slices of raw meast, which are fairly thin, having pounded them to make them tender, & when they are moderately cooked on one side, turn them over: & remove them for the fire before they are dry. One can lard the slices with a few cloves, & a little laurel before cooking them, one can serve this ragout [sic] with a mild sauce.
Le Cuisinier Francois (37-38)
At the start of the century, Le Cuisinier Royal et Bourgeois offered its own take, but with very different results:
Grilled Food

When one has cold Fowl, such as Turkeys or others: to make an Entrée of them, you can take the wings, the thighs and the parson's nose, grill them with salt and pepper, brown flour in a frying pan with melted lard, put in oysters, anchovies, capers, nutmeg, a little laurel and some lime, a trickle of vinegar & a little bouillon; simmer all this together.
(256)
(It is not clear if the grilled meat is to be simmered with what follows, or if the rather rich simmered mixture is to be used as a sauce, which would be my own preference.)
Beauvilliers, going into the next century (1814), offers something for the vegetarians:
Eggplants on the grill

Cut your eggplants in half and lengthwise; put these eggplants on a plate; sprinkle them with a little fine salt and unground pepper; pour a little fine oil over them, let them marinate for half an hour; put them on a clean grill; grill them, being careful to baste them with their seasoning; once they are cooked, serve them.
L'Art du Cuisinier (II, 215)

This is listed by the way as an entremets.
End quote
"How did unpracticed insurgents, without allies, without help, lacking everything, support our first efforts with a valor whose example is to be found only in the great centuries of Greece & Rome, with an intelligence which put to fault the skill of the greatest English generals of land & sea, which shocked, confounded the wisdom of professionals of all nations, witnesses of this spectacle, & who could never have foreseen it? It is that they were alone & united, that they had but one soul, one passion, this patriotism that in every age was the source of heroic virtues & which gave birth to miracles."
Pidansart de Mairobert, Espion Anglais, X, 1784 (120-121)