In 1733, at the siege of Kehl, a cannonball cut the hair of M. de Forcalquier, earning him this compliment from Voltaire:
From CHEZ JIM Books:
An EIGHTEENTH CENTURY VEGETARIAN COOKBOOK:
APRES MOI LE DESSERT - VOLUME II
and a history of the CROISSANT:
AUGUST ZANG AND THE FRENCH CROISSANT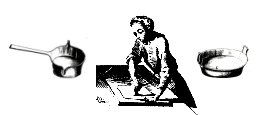 18th CENTURY RECIPE: A meal for Marie-Antoinette - Spanish pates
In 1862, Charles Monselet's L'Almanach des Gourmands pour 1862 provided part of a menu for a meal served to Marie-Antoinette July 24, 1788 at the Trianon. This is available on-line in French:
http://menus.free.fr/page10.html
http://freresgoncourt.free.fr/portef2001/JulesGourmet/2repasRoyaux.htm
in German: http://www.wissen.swr.de/sf/begleit/bg0007/bg_ag02c.htm
and in English: http://www.foodtimeline.org/foodcolonial.html
The several courses listed include sixteen entrees:
Spanish pates, Grilled mutton cutlets, Rabbits on the skewer, Fowl wings a la marechale, Turkey giblets in consomme, Larded breats of mutton with chicory, Fried turkey a la ravigote, Sweetbreads en papillot, Calves' heads sauce pointue, Chickens a la tartare, Spitted sucking pig, Caux fowl with consomme, Rouen duckling with orange, Fowl fillets en casserole with rice, Cold chicken, Chicken blanquette with cucumber
http://www.foodtimeline.org/foodcolonial.html
One would think that the first of these items would be fairly simple. In fact, the Cuisinier Royal et Bourgeois (1705) does have a simple enough recipe for the 'small' version of Spanish pate (350):
Little Spanish Style Pates

Take a piece of lard, a little piece of veal, and white meat of chicken: blanch all this in the pot and chop it up very fine, season with fines herbes. Beat it again in the mortar, and adding a little garlic and elephant garlic, or having made a fine paste, make dough bases and your little Pates, which you will serve as a garnish or as an hors d'oeuvre.
For the standard version, the index refers the reader to a Tourte - that is, a 'tart', but really, in this case, a pate en croute (a pate in pastry, as all pates once were) (469-470):
Spanish Style Tart as an Entree

Take any sort of Poultry, Quail, Pigeons, Larks, Ortolans; one or another, so long as it be small Poultry and tender. If these are Pigeons, for instance; after having tied them well, make a stuffing of a little marrow, mushrooms, truffles, and small pieces of whitened lard, all well seasoned with spices and fines herbes of all sorts. Slit your Pigeons only along the back, to put in this stuffing; and in case they are a little hard, brown them. Once stuffed, you need sweetbreads, mushrooms, crests [of cocks], artichoke hearts cut into quarters, all seasoned and separately strained. Keep your pigeons ready: meanwhile, make dough with water, flour, an egg yolk, a little salt and butter, and it should not be too hard. Let it rest a little: then knead it with the roller, and separate it into eight pieces, according to the size of your pie dish. Of these eight pieces, take four to put on top: stretch each base of dough out thin as paper: grease your pie dish with refined or raw lard; then having put in a base of dough, grease this base like the pie dish, in order to put in the second, and so with the other. After this you must neatly lay your Pigeons, or other small Poultry, with the stew, and cover them with strips of lard. Then take the four remaining pieces of dough, and do as you did for those underneath; that is, greasing them before putting them on top of the other. Once your Tart is so covered grease it again on top and cook it, being careful not to brown it too much. Once carefully cooked, lay it out in a dish or plate; properly clean the cover and the strips of lard, putting on it some good white coulis, or one of mushrooms, depending on the Poultry you have used; all this served hot.