LINKS: Africa and Slavery
Though it may be natural that 18th century studies center on those parts of the world which were already dominating and otherwise influencing much of the rest of it, I do sometimes find it, not quite frustrating, but vaguely unnatural that large parts of the world are missing (or satirically distorted) in sources on the period. A search for sites on Africa, in particular, for our period, yields little more than the following:
British Views Of 18th Century Africa
Ancient Manuscripts from the Desert Libraries of Timbuktu
What information does exist is often bound up with the history of slavery (which is hardly the whole African story):
Chronology on the History of Slavery and Racism
The following genealogical database while in one sense limited, may also offer insights into the places of origin of those included:
Afro-Louisiana History and Genealogy
The Afro-Louisiana History and Genealogy 1699 - 1820 Database, a user-friendly, searchable, online database that is freely accessible to the public.
In 1984, a professor at Rutgers University stumbled upon a trove of historic data in a courthouse in Pointe Coupee Parish, Louisiana. Over the next 15 years, Dr. Gwendolyn Midlo Hall, a noted New Orleans writer and historian, painstakingly uncovered the background of 100,000 slaves who were brought to Louisiana in the 18th and 19th centuries making fortunes for their owners.
Poring through documents from all over Louisiana, as well as archives in France, Spain and Texas, Dr. Hall designed and created a database into which she recorded and calculated the information she obtained from these documents about African slave names, genders, ages, occupations, illnesses, family relationships, ethnicity, places of origin, prices paid by slave owners, and slaves' testimony and emancipations. In March 2000, the Louisiana State University Press published Dr. Hall's databases on a CD-ROM.
The data has amazed genealogists and historians of slavery with the breadth of its information. Because the French and Spanish proprietors of Louisiana kept far more detailed records than their British counterparts at slave ports on the Atlantic coast, the records show valuable historical data. For historians who thought such information was lost or could never be collected and analyzed, the database is a once-unimaginable prize.
ON-LINE ARTICLES: West Indies Plantations; an Islamic scholar
This 1926 article is available on Roots Web:

Article: Slavery in the West Indies in the 18th Century Slavery on British West Indies Plantations in the Eighteenth Century, by Pitman, Frank Wesley, Journal of Negro History, Volume Number: 11 Issue Number: 4, October, 1926 Pages: p. 584-668.

The following is a bit casual, being an interview, rather than a formal article:

An Interview on Uthman dan Fodio
"Uthman Ibn Fodio is probably the most influential Islamic scholar in the history of Islam in west Africa..."
What is it about this scholar that makes him worthy of study? Who is he and what exactly is significant about him? Questions such as these can be answered once an individual takes a moment to look into the life of this 18 century scholar, who is known as Sheikh Uthman ibn Fodio in Arabic or Dan Fodio in Foulani (a West African) language.
This passage is particularly striking:
Female circumcision was another major social issue the Sheikh delved into. This practice was in the Sudan, Somalia and was going across to his country and he stopped people from doing it. He brought the hadith of the Prophet showing that only a little bit was allowed to be removed from the tip of the clitoris, but was by no means necessary as it wasn't really part of Islam. His argument against it, once again went into graphic details of how if men allowed this to happen then a woman would not be able to achieve her climax in a physical relationship, which would then cause their relationship to deteriorate. To have a more fulfilling relationship, they should allow her to retain what Allah gave her. This obviously was a heavy argument for the Sheikh to be making, especially in the 18th century!
From CHEZ JIM Books:
An EIGHTEENTH CENTURY VEGETARIAN COOKBOOK:
APRES MOI LE DESSERT - VOLUME II
and a history of the CROISSANT:
AUGUST ZANG AND THE FRENCH CROISSANT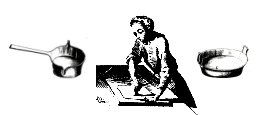 18th CENTURY RECIPE: Napoleon's Breakfast
The English version of Bourrienne's Memoirs of Napoleon Bonaparte, in R. W. Phipps's 1891 edition, says:
At ten o'clock the 'maitre d'hotel' entered, and announced breakfast, saying, "The General is served." We went to breakfast, and the repast was exceedingly simple. He ate almost every morning some chicken, dressed with oil and onions. This dish was then, I believe, called 'poulet a la Provencale'; but our restaurateurs have since conferred upon it the more ambitious name of 'poulet a la Marengo.'
The French word here is 'dejeuner' and this is an excellent example of the ambivalence of that word in the nineteenth century. At the start of the eighteenth, it clearly meant 'breakfast'. By the twentieth century it clearly meant 'lunch'. But in Napoleon's time it was in flux. Was this a late breakfast, or an early lunch?
In another English edition (Walter Clarks', 1895), Constant, his valet, writes:
Most frequently the Emperor breakfasted alone, on a little mahogany candle-stand with no cover, which meal, even shorter than the other, lasted only eight or ten minutes.
I will mention, later on, the bad effects which the habit of eating too quickly often produced on the Emperor's health. Besides this, and due in a great measure to his haste, the Emperor lacked much of eating decently; and always preferred his fingers to a fork or spoon. Much care was taken to place within his reach the dish he preferred, which he drew toward him in the manner I have just described, and dipped his bread in the sauce or gravy it contained, which did not, however, prevent the dish being handed round, and those eating from it who could; and there were few guests who could not.
I have seen some who even appeared to consider this singular act of courage a means of making their court. I can easily understand also that with many their admiration for his Majesty silenced all repugnance, for the same reason that we do not scruple to eat from the plate, or drink from the glass, of a person whom we love, even though it might be considered doubtful on the score of refinement; this is never noticed because love is blind. The dish which the Emperor preferred was the kind of fried chicken to which this preference of the conqueror of Italy has given the name of poulet a la Marengo.
Later though Constant says: "On rising, the Emperor habitually took a cup of tea or orange water." Some might say THIS was Napoleon's true breakfast, and the next meal... brunch?
The dish both mention also presents some issues. Marengo - conveniently for this Olympic week - was near Turin, and the site of one of his most famous victories. Legends surround the dish named for it, including the idea that it might have been invented at the battle itself:
http://www.knet.co.za/marengo/chicken.htm
But others protest that tomatoes wouldn't have been used at the time and that the chronology (unspecified) is wrong for Napoleon's cook, Dunan, to have invented it there:
http://chefsimon.com/cel21.htm
Today's Chicken Marengo is in fact characterized by one key ingredient: tomatoes. Which Bourrienne does not mention at all.
In trying to locate this recipe, I was surprised to find it missing from a number of post-Napoleonic cookbooks - until I remembered that Napoleon LOST. Referring to one his most famous victories might not have been politic under the Restoration*. For whatever reason, the first mention of the recipe I found is from 1885, in Marcel Butler's La Bonne Cuisine Pour Tous. The versions it gives for both Poulet Marengo and Sauce a la Provencale echo Bourienne's (tomato-free) version, though with shallots or spring onions rather than plain onions:
Chicken Marengo (122)
Put salt, pepper and a good lump of butter in a pot. Heat it, then put in your chicken cut up in pieces, brown it over a brisk flame, stirring well.
Then let it simmer to finish cooking. When the chicken is almost done, add a glass of white wine, spring onions and parsley chopped up fine, pieces of mushroom, salt and pepper. Let it boil a quarter of an hour, adding a little wine if the sauces boils away too much. This done, lay your pieces of chicken out on a dish, and cover them with the sauce. You can also add a little lemon juice.
Sauce Provence-style (48):
Chop up mushrooms and shallots, put in a pot two or three spoonfuls of olive oil. Add two cloves of garlic, with a little flour, and moisten with bouillon and a glass of white wine. Put in a bouquet garni, salt, pepper and spring onion, boil half an hour. When serving, take out the garlic and the bouquet garni.
*Though, according to this site:
http://www.cliclait.com/secondaire/index.asp?autre=article&complement=article_id=13%26dossier_id=1&dossier_id=1
its appearance on the menu of one popular restaurant was a pretext for arguments over the relative merits of Napoleon and his successors: "..histoire évidemment de relancer la guerre entre nostalgiques de l'Empire et revenants de l'ancien régime. On s'amuse comme on peut, sous la Restauration."