SUNDRIES: An eighteenth century newsletter
N° 14 - January 21, 2006


LINKS: Old and Sold
This is above all an antiques site:
with some information that is certainly relevant to our era, but also has a section with reprints of bios of various American statesmen:
http://www.oldandsold.com/articles35/american-statesmen-2.shtml
Apparently Macworld called History Wiz one of the best history sites on the Web. First I've heard of it, but here's their Enlightenment page:
http://www.historywiz.com/enlightenment.htm
ON-LINE ARTICLES: Chartier on print; 1745 vs 1845; French Memoirs
This excerpt from Roger Chartier's book, Cultural Uses of Print in Early Modern France, goes well with Darnton's article from last week:
http://transcriptions.english.ucsb.edu/archive/courses/liu/english165/materials/chartier-printer.html
It's a toss-up if this (from the Living Age) is an on-line article or simply part of a text collection (Cornell's side of Making of America in this case), but either way it's an unusual comparison of two years a hundred years apart:
"1745 and 1845" (70-73), The Living age ... / Volume 5, Issue 48 Publisher: The Living age co. inc. etc. Publication Date: April 12, 1845 City: New York etc.
Another Making of America find is this rather informative overview of French memoirs from Appletons' journal: a magazine of general literature. French Memoirs [pp. 362-368] by Junius Henri Browne.
TRAVEL: The Churchills' Collection of voyages and travels
Early Canadiana has one big disadvantage: you have to step through each page on-line. So the following collection (in several volumes) could be laborious to read. On the other hand, it looks pretty rich: A Collection of voyages and travels : some now first printed from original manuscripts, others now first published in English : in six volumes with a general preface giving an account of the progress of navigation from its first beginning. Author: Churchill, Awnsham, d. 1728. Churchill, John, fl. 1695. Imprint: London : Printed by assignment from Messrs. Churchill for JohnWalthoe ... , Tho. Wotton ... , Samuel Birt ... ,Daniel Browne ... ,Thomas Osborn ... , John Shuckburgh ... and Henry Lintot ... , 1732. General Note: Compiled by Awnsham and John Churchill--Facing t.p.
THE BASTILLE: A New Yorker in the Bastille
There may have been other Americans in the Bastille besides the recently-cited Hodge and this man, but I suspect Peter Allaire was the only New Yorker: "An American merchant. His father, Pierre, was born in New Rochelle, in Westchester county, in 1699, but Peter was born in New York City in 1740 and died in 1820. A member of a Hugenout family from La Rochelle, France. From the Journals of the Continental Congress, 27 December 1785: "a memorial of Peter Allaire, of New York, proposing to supply copper coins, was referred to the Board of Treasury to report."

Another work says that a Pierre Allaire - the current subject's grandfather? - was the first resident of New Rochelle.

Allaire and Hodge had one thing in common: both were imprisoned because of Benjamin Franklin; Allaire far more directly than Hodge:
There ... was, Franklin firmly believed, an attempt made on his life during this crisis time. Peter Allaire.... was one of dozens of men who shuttled between the two capitals, sometimes trying to do legitimate business, other times serving as couriers and spies. Allaire was well known to Franklin and sent him a large bottle of fine Madeira. Franklin fell violently ill after drinking some of it and was quick to believe he had been poisoned.
James Srodes, Franklin: America's Essential Founding Father (357)
Stacy Shiff adds more technical detail: "Madeira is flavorful enough to cloak an additive, and Allaire's fever powder contained a cousin of arsenic." (Stacy Shiff, Great Improvisation: Franklin, France, and the Birth of America (238).) She goes on to say that Franklin was too cagey to let Allaire know he suspected him, but refused to authorize his departure from France:
The next morning Allaire's hotel breakfast was interrupted by two of Lenoir's men. They spent several hours searching his room, after which they escorted Allaire to police headquarters. They found nothing incriminating, but Allaire's papers, it was explained at police headquarters, would need to be reviewed carefully. That would take time. Allaire was dismissed courteously, or so he believed, until he realized he was being courteously escorted to the Bastille. Atypically, he was incarcerated at the request of the prison chief, a Franklin friend.
This was on February 15, 1780. The Bastille's registers - as quoted in Charpentier's Bastille Devoilee - list the arriving prisoner as "The person named Allin from New England"- their mistake or Charpentier's? The "prison chief" would have been de Launay, the same man who was later murdered by the Paris mob. He was, by most accounts, an awful human being and it is intriguing that Franklin would have considered him a friend. Unless this means Le Noir, the Minister of Police? The Bastille Devoilee gives excerpts from the interrogation, a tedious transaction, except for those of us who enjoy glimpses of daily habits of other times:
-Asked if he was in relation with some enemies of the state?
-Answered no, and that he didn't know any. [A half-truth, given that Shiff says he was indeed in British pay. Later he specifically denies he spied for them.]
-Asked where he usually took his meal?
-Answered that he normally took them at the Hotel de Bourbon, rue Croix-des-petits-Champs.
-Asked what cafes he frequented?
-Answered the cafe Militaire, rue Saint-Honore, the cafe of the Sargeant's Gate, also on the rue Saint-Honore, and the cafe de Conti, at the end of the Pont Neuf.
Ultimately, says the BD, "Mister Allaire was not convicted, and must not even have been suspected of any crime [writing in 1789, Charpentier probably didn't know about Franklin's suspicions], but was nonetheless exiled from the kingdom, with the ridiculous condition of passing by Valenciennes." The register entry for his release is dated May 24, and adds that he has been "exiled from the kingdom within 15 days passing by Valenciennes". (Linguet, who arrived that September, was later released with an order to go to Rethel, a minor northern town. The logic of these bureaucratically imposed detours can only be guessed at.) Shiff finishes the story a little differently:
The bottle of Madeira was produced and uncorked. Allaire was offered a tumbler of the nutty liqueur. He swallowed it blithely.... on suspicions that he was a British spy, he spent the next months in the Bastille, subjected to a second interrogation (held among a collection of instruments of torture), and deprived of all contact with the outside world. He was released finally in late May and expelled from France, doubtless to Franklin's relief. His uncharacteristic panic aside, he had no need either of a new, murderous enemy or for an American to be locked up in the Bastille on espionage charges, an embarassment to the cause.
For some more on this incident, see Benjamin Franklin and the French Alliance.
THEATER: Harlequin and the Host
The Dictionnaire de la Conversation et de la Lecture, in the article on actors (Comediens, XV-351), mentions the Old Regime's excommunication of actors, first declared at Arles in 315. But it then points out that other countries did not share this approach, so that Italian actors who came to Paris, over three centuries,
far from being excluded from the communion of the faithful, were members of the brotherhood of the Holy Sacrament, and Harlequin, Scaramouche, Pantalon and Scapin have been seen at Paris (in street clothes, it is true) holding the cords of the dais in the procession. The singers, the dancers of the Royal Academy of music and of the Comic Opera were not excommunicated because, strictly speaking, they were not actors. Thus, by the deplorable use of words, the Vatican's thunderbolts struck the martyr Polyeuctus, the holy pontiff Joad, the Christian Zaire, the virtuous Bayard, and spared the Pierrot of the fair and the Venus of the Opera.
From CHEZ JIM Books:
An EIGHTEENTH CENTURY VEGETARIAN COOKBOOK:
APRES MOI LE DESSERT - VOLUME II
and a history of the CROISSANT:
AUGUST ZANG AND THE FRENCH CROISSANT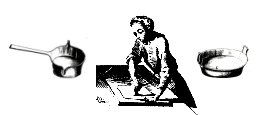 18th CENTURY RECIPE: Voltaire's soup
In Les Salons de Conversation au Dix-Huitieme Siecle (89-91), Feuillet de Conches quotes a poem Voltaire sent in 1716 to an unnamed lady to accompany a recipe. Some excerpts:
I send you a manuscript
Whose wit is surely not the work
Of a fine writer
But which will please you more
Than the best-written book:
The recipe for a soup. ...
You cannot overpay
This appetizing recipe
That I have just sent you.
I do not yet dare employ
My discreet, shy muse for you,
I am not your poet;
But I am your cook. ....
Oh of suppers, charming queen,
May the gods have the Gerquois
Give you partridge by the dozen, And think of me sometimes
When you eat along the Seine
Soups a la Brunoise.!
[LeGrand D'Aussy mentions praise of chickens from Caux, but for capons, it's Mans, not Maine, he mentions. For partridge, he only cites Auvergne; 'Gerquois' presumably refers to Gers, in Guienne.] Not only does Feuillet not give the lady's name (nor can I find this letter in Voltaire's 1716 correspondance), he also omits Voltaire's recipe. He does however note that a Brunoise-style soup was 'a fatty soup with little cubes of carrots'. This is an accurate if minimal description of the soup, which can be made in a number of ways, some quite complex. It is said to be like a Julienne. Some who know French cuisine will guess - correctly - that in a Julienne soup the ingredients are cut into shapes like thick matchsticks, just as in a Brunois they are cut into cubes. Today, both 'brunoise' and 'julienne' refer to slicing methods - the brunois cubes can be made by slicing up the julienne sticks.

One 19th century cookbook, slightly mistranslating the name, gives the recipe in English as "French Brown Soup". Here is, not exactly Voltaire's, but from Briand's Dictionnaire des Alimens (1750) this particularly rich recipe for 'All season or Brunoise soup' (111-112):
Put slightly salted bouillion in a stewpot; then wedge pounded slices of veal into a casserole and sweat them on a stove; moisten them with boullion from simmering, cook; then strain this boullion and pour it into your pot with the boullion; strain this then with a little melted lard, cabbage hearts, celery, leeks, chicory, lettuce hearts and sorrel, all cut into cubes, and cucumbers, blanched and cut in the same way; moisten all this with your double boullion and thoroughly skim the fat off; then pour it in the pot with your double boullion; put in a blanched chicken; with two onions, a pack of carrots and parsnip, and a bouquet [of spices]; cook it all together. Simmer your soup with the boullion, the chicken on it, a ring of vegetables around the platter; garnish some more on top and serve hot.
To convert the above into a Julienne, I'm guessing it would suffice to slice the vegetables accordingly. Either way, it sounds like a pretty substantial meal all by itself.

FOR READERS OF FRENCH

MAGASIN PITTORESQUE: No 18 - 1850 -- Chardin, the Louvre, poster hangers and needle makers
I'm now returning to my 'mining' of the 19th century Magasin Pittoresque (a kind of omnibus Life/Scientific American/National Geographic/literary and art magazine - hard to believe, but the following really is an extract of much more extensive material.) The 1850 volume is unusually rich in 18th century material.
This material is roughly within our period:
49 - Scarron's the Roman Comique
50 - A critic in 1760 (satirical engraving)
73 - adventures of the lawyer Lebeau in Canada (18th)
85 - the false Peter III
97 - drawing school founded 1767
106 - history of Port Royal
171 - Chardin's laundry woman
187 - poster hangers of the 18th
203 - rhebus from 1643
214 - George Washington's mother
217 - 17th century artist's residence
297 - studies of architecture: the Regency and Louis XV
305 - first show at Louvre
322 - needlemakers (including 18th)
347 - the Hotel Sale (now the Picasso museum)
423 - hunting in the 18th
529 - the Edgeworth family
560 -- images of Irish peasants (Edgeworth thread)
597 - three "good men", including Jean-Marie Gerando and Bernard Delessert

Plus, the magazine often focuses on accomplished individuals, notably painters:

76 - painter Moreau Jeune
132 - painter Alexander
Wilson 204 - historical painter Francois Gerard
220 - educator Gregoire Girard 247 - geographer Remond de Montmort
302 - painter/architect Servandoni
395 - painter (from Geneva) Saint-Ours
572 - painter Carl Van Loo

Otherwise, these articles, though outside our era, seemed interesting:

102 - review of memoirs of an American slave (Frederick Bailey)
106 - invention of playing cards in China
112 - Indian war song (Leni-Lenapi)
241 - Museum of Cluny
280 - abolitionists/Granville-Sharpe
281 - view of the Champs-Elysee
364 - Article on Notre Dame
381 - history of trictrac (backgammon?)
404 - Cabs appear in London
545 - Pompeii

End quote
"I hope you will not refuse me a coat of arms, seeing how certain is the nobility of my family both in Spain and in France."
Jean-Paul Mara, called Marat
(Nancy Amphoux's translation)