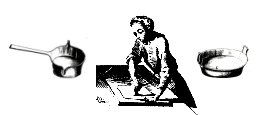 18th CENTURY RECIPE: Talmouse
I first knew the word 'Talmouse' as the name of a Left Bank restauarnt where the two waiters would respond to particularly satisfying tips by performing an ornate choreography, all the while chanting, "Sup-er! Sup-er! Su-per!" It was years before I learned it was the name of a cheese pastry which has existed for hundreds of years, starting as a primitive cheesecake before taking on a distinct three-sided form, variously described as having three horns, like a three-corner hat or like a priest's bonnet. Modern versions (see the Larousse Gastronomique) do not always have this shape, however. For an image of one modern version, visit Chef Simon's excellent recipe site:
http://chefsimon.com/talmous.htm
The Encyclopedie unhelpfully says: "It is a piece of pastry, made with a cheese filling, butter and eggs." It was well-known enough in 1788 for Mirabeau to use it as a reference: "I don't see that a pastry maker can object to what we want for our child, nor have any opinion on inoculation; it's all she could do if we were talking about a talmouse." Mirabeau - Letter to Sophie from Vincennes 12/8/1788
It's also sometimes used as a slang term, meaning a good solid blow.
If you'd like to see the different forms the pastry has taken over the centuries, I've added several centuries of recipes to this page:
http://www.chezjim.com/books/one_recipe.html
Otherwise, here's a recipe from Massialot's Cuisinier Roial et Bourgeois (1705) which, unusually, recommends adding pepper to the cheese. The Dictionary of Food (Dictionnaire des Alimens, 1750) largely cribs from this version, but adds the editorial remark that the filling makes these "heavy on the stomach" (literally, 'indigestible' or 'hard to digest'.):
To make talmouses, take nice fatty white cheese, and crush it well in a mortar, with butter the size of an egg, and a little pepper. Once well crushed, you must put in a handful of flour, a little milk and two eggs; and be careful not to knead the filling too much. Make a fine dough, and make from it little bases, depending on how big you want your Talmouses: put this filling on your bases, and lift the edges on three sides, like Priests' bonnets; pinching the corners with the fingers, so that they do not come apart while cooking. Gild them with a beaten egg, and cook them in the oven, and you can use them for garnishing.