Along the coast (Bodega, Duncans Mills, Mendocino)
I had a nice talk with the man in the tourist information office in Bodega . He'd only been there for two days, but had some good hints for the area and further on. Turns out this is where 'The Birds" was filmed! I went on almost as far as Jenner, then turned off to look at Duncans Mills.
This town looks the kind of hamlet at a crossroads that usually has no more than a post office, a gas station and a general store. And yet, upon closer examination, it has several restaurants, a café, all kinds of shops and a wine tasting outlet. I took a good look around, then tasted some wines with a local cheese. Well worth the short detour I made off the coast.
Driving this, honestly, gets a little monotonous. It's mainly a twisting, narrow, two-lane highway. But the landscape certainly has a dramatic, Japanese quality – spare, rocky shores, sinewy looking trees, patches of fog.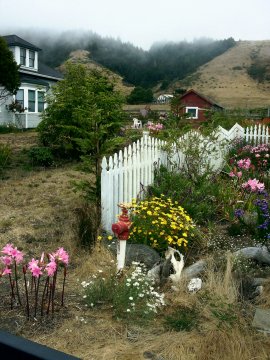 There's a few possible places to stop, but I pretty much kept going until I reached Mendocino.
MENDOCINO
All along the way, people had said I had to see Mendocino. So I was expecting a city of some size. In fact, Mendocino is very much a small town and more the kind of place you go to get away from it all than to look for night life. Though I later met a woman who'd grown up there who said it's a big pot town. Apparently, in winter, it becomes a very different, more intimate and arty community. What I saw was a bit more geared towards tourists, with upscale shops and some cozy looking restaurants. Also, an intriguing traditional music shop with a number of unorthodox instruments.
Three things struck me most: a pink car,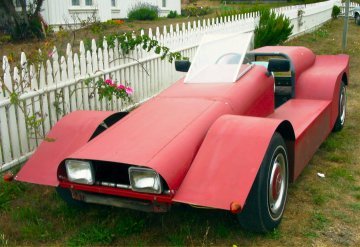 some multi-colored berries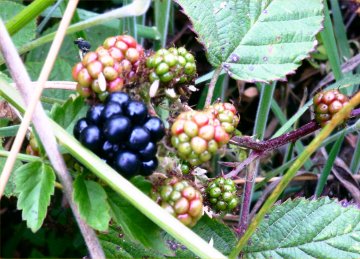 and a poster in a bookstore. The car appeared to be homemade. I presume it runs, but never got to ask. The berries are on a patch of land looking out on the water. The same cluster would include several different colors and shades of what basically looked like blackberries. I took a few shots of these, but most didn't come out.
Moore's Used Books, across from an old gas station, has a small poster on the second floor that promoted a production of a play back in the Thirties. Nothing unusual about it except that one of the ACTORS is Antonin Artaud. Whom I never imagined as the Mendocino type.
I briefly considered staying there, but ended up driving on. As it got later, the fog got more picturesque:
At last I turned east towards Legget and the start of redwood country.
QUICK ACCESS MENU
LAST UPDATED: APRIL 2006